Views sought on proposed final stretch of link road
12 Feb 2010
THE new preferred route of the £20 million final section of Sittingbourne's northern bypass has been revealed.
Plans have been drawn up for the new road - which will plough through countryside to the north east of the town to create a link between the A2 at Bapchild and the A249 at Kemsley.
People have been urged to make their views on the proposed road known before the end of a three-month consultation, which starts this week.
Despite being one of the town's most significant projects for decades, details of a public exhibition in Bapchild on Friday were revealed only on Monday afternoon.
Kent County Council was hastily preparing hundreds of leaflets about its plans, expected to be delivered to homes yesterday.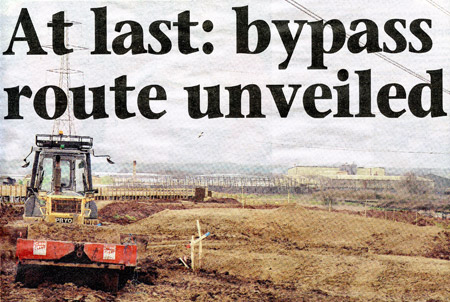 Bapchild Parish Council chairman Andy Hudson was among a group of about 40 people given a briefing on the proposal. He said: "With a road alignment that breaches the countryside gap, a conservation area and the demolition of two houses, the proposals are certainly controversial."
Mr Hudson said he doubted the route of the new road met Swale Council's own planning policies. He also questioned where the £20 million funding would come from. "We're told that the road is unlikely to be completed before 2020 and that the £20 million budget at today's prices will be met by a combination of housing development and government funding, although no government funding exists at this point and therefore the end date is extremely speculative," he said.
Mr Hudson claimed plans for 600 homes at Stones Farm, only recently publicly unveiled, would need to be changed to take account of the new road. "Besides the significant environmental and aesthetical implications there are going to be a number of important issues to debate, which has been made all the worse by the fact that the public have only just been consulted on a housing development with road alignments that bear no resemblance to these proposals," he said.
Swale Council leader Andrew Bowles welcomed the proposed route, saying the positives outweighed the negatives. "I think it provides quite a benefit to Bapchild because it will effectively create a bypass," he said. "Traffic coming from either direction will be directed onto the new road. Traffic studies have revealed it will lead to a 90 per cent reduction in traffic through Bapchild.
'KCC needs to address negative impact of bypass road'
Cllr Bowles also welcomed plans to relocate Bapchild Cricket Club next to the Fox and Goose pub. "One wonders if having a cricket pitch and open space adjacent to the pub might start to give the village a heart."
Commenting on the implications of extra traffic for villages further along the A2, such as Teynham, Cllr Bowles reiterated his support for a southern by-pass for the town: "If KCC is going to do this it needs to address what it is going to do about the negative impact on those communities."
County councillor Nick Chard said: "We are building the third phase of the relief road across Milton Creek and this fourth section would finish the job."
KCC's proposals will be exhibited at Hempstead House Hotel, London Road, Bapchildn from 4pm to 8pm on Friday and from 10am to 4pm on Saturday. Council officers and designers will be there to answer questions.
Comments can be sent to project-supportteamR&E@kent.gov.uk. Alternatively, call 01622 221866.
Report by Stephen Waite
East Kent Gazette
back