Scout march defies lack of police help
04 May 2011
Officers refused to close roads for event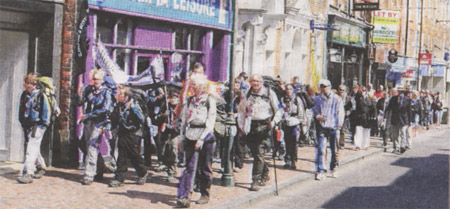 SCOUT groups defied police by marching through Sittingbourne for a St George's Day parade that was not meant to happen.
A group of more than 60 Scouts, Beavers and Cubs walked through the town on Sunday, despite a last-minute decision by police not to close roads on the route.
More than 400 Scouts, Cubs and Beavers had been due to march through the town centre that day.
Although that parade was abandoned, a smaller group, aged between six and 21 from across the borough, went ahead with their annual march anyway.
They set off from outside the Swale Council offices in the afternoon, making their way to Borden Grammar School. The walk was sponsored to raise money for Help for Heroes. The total amount raised is not yet known.
Group Scout leader for Murston and Bapchild Stuart Turk said: "It was cancelled at the llth hour and there wasn't time to tell all 60 in the group. That's a lot to contact, so we made our way along the route by sticking to the pavement. There was no problem."
He added: "It gives the town a bit of a lift if people see Scouts walking through the high street.
"Perhaps next year it can go ahead as normal."
Mr Turk would not comment on the lack of police backing.
Police Inspector Adam Jones said the force's lack of support was due to Scout organisers' "lack of preparation" with regard to "risk management."
At Borden, the Scouting groups took part in a delayed St George's Day ceremony.
Certificates were awarded to high achievers by district commissioner for Sittingbourne and Milton Regis District Scouts, Paul Austin and the inspection was taken by Mayor of Swale Councillor Steve Worrall.
back